'Outbreaks have been spotted around the world, invading the habitats of other Pokémon! Investigations have pointed out that these occurrences last for approximately 4 hours, the cause still remains a mystery …'
—
An Outbreak is a randomly occurring in-game event. It will create a spawn for a random rare Pokémon at a random location. Said spawn of the random Pokémon will be more common than its regular spawns. Normal Outbreaks are active for usually 4 hours; however, they can also created by the Staff team with a set Pokémon and appearance time.
Outbreaks in depth
Pokémon and Spawns

Typical outbreak message in-game. Omg!
Outbreaks appear randomly and are not announced beforehand. They normally last for 4 hours and take a random Pokémon out of a set of Pokémon, shown below. Those Pokémon are usually rare or very rare and do not necessarily have a current spawn place, which means that Alolan forms, which were already catchable in the past, can also appear. Outbreaks will be announced in-game with a system message in every chat and in Discord where the Reborn Bot will write an announcement in an extra channel.
When there is an outbreak on the Silver server there is also one in the Gold server as well, but the Pokémon and spawn location won't necessarily match.
Outbreaks can also be created by Staff with a set Pokémon and duration.
The spawn rarity depends on the current, lowest, rarity of the Pokémon and decreases it by one. All Generation VII spawns seem to have a rarity of Rare.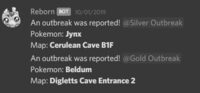 Reborn-bot announcing a outbreak!
Spawn set
The following Pokémon have already had a spawn in an outbreak and can appear again. Their spawn tier refers to their originally spawn tier which is not influenced by the outbreak.
Pokédex Number
Pokémon
Type 1
Type 2

Reward Tier

#359

Absol

Dark

—
#142

Aerodactyl

Rock

Flying

—
#50A

Alolan Diglett

Ground

Steel

—
#103A

Alolan Exeggutor

Grass

Dragon

—
#74A

Alolan Geodude

Rock

Electric

—
#88A

Alolan Grimer

Poison

Dark

—
#105A

Alolan Marowak

Fire

Ghost

—
#52A

Alolan Meowth

Dark

—
#26B

Alolan Raichu

Electric

Psychic

—
#19A

Alolan Rattata

Dark

Normal

—
#27A

Alolan Sandshrew

Ice

Steel

—
#37A

Alolan Vulpix

Ice

—
#566

Archen

Rock

Flying

—
#610

Axew

Dragon

—
#374

Beldum

Steel

Psychic

—
#418

Buizel

Water

—
#001

Bulbasaur

Grass

Poison

—
#455

Carnivine

Grass

—
#351

Castform

Normal

—
#004

Charmander

Fire

—
#650

Chespin

Grass

—
#152

Chikorita

Grass

—
#390

Chimchar

Fire

—
#358

Chimecho

Psychic

—
#546

Cottonee

Grass

Fairy

—
#453

Croagunk

Poison

Fighting

—
#613

Cubchoo

Ice

—
#742

Cutiefly

Bug

Fairy

—
#702

Dedenne

Electric

Fairy

—
#425

Drifloon

Ghost

Flying

—
#557

Dwebble

Bug

Rock

—
#133

Eevee

Normal

—
#125

Electabuzz

Electric

—
#239

Elekid

Electric

—
#605

Elgyem

Psychic

—
#677

Espurr

Psychic

—
#653

Fennekin

Fire

—
#597

Ferroseed

Grass

Steel

—
#661

Fletchling

Normal

Flying

—
#590

Foongus

Grass

Poison

—
#656

Froakie

Water

—
#478

Froslass

Ice

Ghost

—
#444

Gabite

Dragon

Ground

—
#443

Gible

Dragon

Ground

—
#207

Gligar

Ground

Flying

—
#622

Golett

Ground

Ghost

—
#440

Happiny

Normal

—
#701

Hawlucha

Fighting

Flying

—
#631

Heatmor

Fire

—
#214

Heracross

Bug

Fighting

—
#107

Hitmonchan

Fighting

—
#679

Honedge

Steel

Ghost

—
#228

Houndour

Dark

Fire

—
#782

Jangmo-o

Dragon

—
#595

Joltik

Bug

Electric

—
#124

Jynx

Ice

Psychic

—
#707

Klefki

Steel

Fairy

—
#599

Klink

Steel

—
#636

Larvesta

Bug

Fire

—
#246

Larvitar

Rock

Ground

—
#607

Litwick

Ghost

Fire

—
#404

Luxio

Electric

—
#240

Magby

Fire

—
#126

Magmar

Fire

—
#556

Maractus

Grass

—
#105

Marowak

Ground

—
#303

Mawile

Steel

Fairy

—
#308

Medicham

Fighting

Psychic

—
#307

Meditite

Fighting

Psychic

—
#052

Meowth

Normal

—
#122

Mr. Mime

Psychic

Fairy

—
#446

Munchlax

Normal

—
#517

Munna

Psychic

—
#198

Murkrow

Dark

Flying

—
#290

Nincada

Bug

Ground

—
#714

Noibat

Flying

Dragon

—
#299

Nosepass

Rock

—
#417

Pachirisu

Electric

—
#674

Pancham

Fighting

—
#515

Panpour

Water

—
#624

Pawniard

Dark

Steel

—
#708

Phantump

Ghost

Grass

—
#025

Pikachu

Electric

—
#127

Pinsir

Bug

—
#186

Politoed

Water

—
#247

Pupitar

Rock

Ground

—
#432

Purugly

Normal

—
#280

Ralts

Psychic

Fairy

—
#447

Riolu

Fighting

—
#744

Rockruff

Rock

—
#627

Rufflet

Normal

Flying

—
#302

Sableye

Dark

Ghost

—
#551

Sandile

Ground

Dark

—
#559

Scraggy

Dark

Fighting

—
#123

Scyther

Bug

Flying

—
#540

Sewaddle

Bug

Grass

—
#422

Shellos

Water

—
#403

Shinx

Electric

—
#561

Sigilyph

Psychic

Flying

—
#227

Skarmory

Steel

Flying

—
#435

Skuntank

Poison

Dark

—
#685

Slurpuff

Fairy

—
#235

Smeargle

Normal

—
#238

Smoochum

Ice

Psychic

—
#215

Sneasel

Dark

Ice

—
#495

Snivy

Grass

—
#442

Spiritomb

Ghost

Dark

—
#325

Spoink

Psychic

—
#682

Spritzee

Fairy

—
#618

Stunfisk

Ground

Electric

—
#185

Sudowoodo

Rock

—
#333

Swablu

Normal

Flying

—
#684

Swirlix

Fairy

—
#175

Togepi

Fairy

—
#328

Trapinch

Ground

—
#252

Treecko

Grass

—
#568

Trubbish

Poison

—
#387

Turtwig

Grass

—
#535

Tympole

Water

—
#236

Tyrogue

Fighting

—
#696

Tyrunt

Rock

Dragon

—
#543

Venipede

Bug

Poison

—
#329

Vibrava

Ground

Dragon

—
#527

Woobat

Psychic

Flying

—
#562

Yamask

Ghost

—
#335

Zangoose

Normal

—
External Links
Outbreaks Guide by Waleed1301